Acquavella Galleries Presents: Barceló's World

Acquavella Galleries Presents
Barceló's World
On view until September 2, 2022 in New York City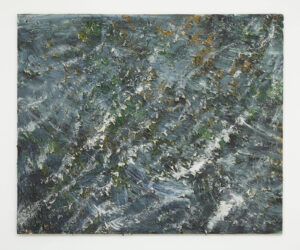 Fuerte Marejada, 2003, Mixed media on canvas, 81 x 99 in. (205.7 x 251.5 cm)
"This is my world, my land, and my sea, I have known it always. All of the fish and fruits I know by memory, they have formed part of my cultural landscape since I was a child." – Miquel Barceló
New York, NY, July 20, 2022- Acquavella Galleries is pleased to present a solo exhibition of paintings and ceramics by acclaimed Spanish artist Miquel Barceló in its New York gallery. The show will be open until September 2, 2022. This is the artist's fourth exhibition with the gallery, featuring seven paintings and a ceramic sculpture created over a span of over thirty years of the artist's career.
Inspired by the natural world, Barceló has created a diverse body of work that explores earthly texture and materiality, the effects of light, and the rich historical tradition of painting. His heavily impastoed canvases are the result of layers of mixed media, which he builds up to create sculptural, tactile surfaces. Barceló's ceramics are unconventional in the 'clay collage' appearance of his works, evoking organic forms. The works on view in Barcelo's World span themes ranging from his well-known seascapes, bullfighting images, and a painting from his early series of abstract landscapes known as the "white paintings," begun after the artist spent six months traveling across the Sahara Desert in 1988.
Over the past four and a half decades, the Spanish artist Miquel Barceló (born 1957) has worked across a wide range of mediums, from paintings to works on paper, ceramics, and bronze sculptures to large-scale installations and performances. Despite his deep-rooted connection to Spain, Barceló draws inspiration from his time spent in varying locations, having worked in Barcelona, Portugal, Palermo, Paris, Geneva, New York, the Himalayas, and West Africa in addition to his native Mallorca. The varied terrain of his travels has influenced and shaped his work, with his art transforming as he experiences new environments around the world, from the arid deserts of Africa to the rocky landscape and underwater marine universe of the Balearic Islands. An artistic nomad, Barceló's fascination with the diverse landscapes of the world has inspired richly textured canvases that recall the earthly materiality of Catalan painters such as Antoni Tapies and Joan Miró, as well as compositions that study the effects of light and the colors of the sea. Always experimenting with the materials of his art, Barceló has remained focused on the expressive qualities of his materials to explore texture, touch, and surface.
His work has been regularly commissioned for notable public spaces including a mural for the Bibliothèque Nationale in Paris (2016), Gran Elefandret in New York's Union Square (2011), a ceramic panorama for the chapel of St. Pere in the Cathedral of Palma (2001-2006), and The Human Rights and Alliance of Civilizations Room, formerly known as Room XX, in The United Nations Headquarters in Geneva in 2008, in which the artist covered the immense domed ceiling with stalactites made from 35 tons of paint.
About Miquel Barceló
Miquel Barceló was born in Felanitx, Majorca in 1957 and currently lives and works in Mallorca, Spain, and Paris, France. The youngest artist to ever show at the Musée du Louvre, Barceló represented Spain at the 53rd Venice Biennale in 2009 and participated in Documenta VII in Kassel, Germany in 1982. He has had retrospectives at renowned institutions, including Centre Pompidou, Paris; Museo Nacional Centro de Arte Reina Sofia, Madrid; Museo Rufino Tamayo, Mexico; the Guggenheim Bilbao, Spain; and is included in many esteemed public and private collections worldwide. Barceló has also had several solo exhibitions in recent years, including one featuring his ceramics at the Museo Internazionale delle Ceramiche, Faenza in 2019, a solo exhibition titled Metamorfosis at the Museo Picasso, Málaga in 2021, and an exhibition at the Tokyo Opera City Art Gallery, on view in early 2022.