BEYER BLINDER BELLE ANNOUNCES DESIGN AND COMPLETION OF DARTMOUTH STRATEGIC CAMPUS FRAMEWORK
BEYER BLINDER BELLE ANNOUNCES DESIGN AND COMPLETION OF 
DARTMOUTH STRATEGIC CAMPUS FRAMEWORK
The plan creates a long-term vision for the Dartmouth campus and land holdings.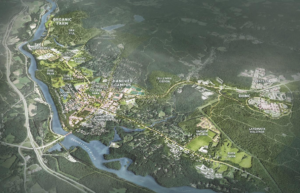 New York, NY (July 12, 2022) – Beyer Blinder Belle Architects and Planners LLP (BBB) announces the design and completion of the Dartmouth Strategic Campus Framework. 
For 250 years, Dartmouth has been a destination for scholarly pursuits and a place of profound beauty. Today, the college is the steward of the historic 269-acre Hanover campus as well as more than 30,000 acres of natural resource land throughout New Hampshire. Looking ahead to the next 250 years, BBB worked with over 2,500 stakeholders to develop Planning for Possibilities: A Strategic Campus Framework. Released in Fall 2020, the resulting framework and catalog of options is a new model for campus planning to inform short- and long-term decision-making while enabling flexibility for changing and evolving needs. The process and the plan guided the reframing of the campus from a single destination to a connected network of campus centers. A short video about the plan and process can be viewed here.
"Planning for Possibilities is based on a unique campus planning process unlike any other," says Neil P. Kittredge, AIA, AICP, Partner, Beyer Blinder Belle. "We are proud to have collaborated with Dartmouth on the first plan in their 250-year history to take an expansive and holistic view of campus facilities and lands – from the historic core around the Dartmouth Green, to the six-mile regional corridor of academic uses, employment centers, residential neighborhoods, and natural assets, to Mount Moosilauke and other precious conservation and experiential learning sites throughout New Hampshire." 
"Campuses can no longer just plan internally," states Rayna Huber Erlich, AIA, LEED AP, Principal, Beyer Blinder Belle, "Working closely with Dartmouth, our collaborative process fostered dialogue across the college, local Hanover, and regional Upper Valley stakeholders revealing common goals for environmental and economic sustainability and resilience."
The year-long planning effort engaged people from the Dartmouth, Hanover, and Upper Valley communities in an open and inclusive dialogue to build a strong, connected campus that supports Dartmouth's mission. The plan provides an overall framework for sustainable growth with a catalog of options for adaptive reuse, new construction, new and improved landscapes and open spaces, and sustainable mobility and transit systems. The plan is closely integrated to Dartmouth's sustainability goals and creates opportunities for 1,400+ new housing units within walking distance to campus or linked by transit, 520 transit-linked intercept parking spaces, 15+ miles of new dedicated shuttle routes, and 13+ miles of new bike lanes, and thousands of acres of preserved natural lands and experiential learning sites. 
Planning for Possibilities received an Honorable Mention award from the Society for College and University Planning for Excellence in Planning for an Existing Campus.
A selection of images can be viewed here.  
In addition to Dartmouth College, BBB has also recently completed a campus plan for American University Cairo, in Egypt, and Phillips Exeter Academy, in New Hampshire. The AUC Next 100 Campus Plan outlines the design and planning process for the next 100 years for the American University Cairo campus, and builds on the success of the New Cairo campus, which opened in 2008.  The campus plan for Phillips Exeter outlines a range of physical planning options for the continuing evolution of the Exeter campus in advance of the 250th anniversary of its founding in 1781.
A short video about the plan and process can be viewed here.
About Beyer Blinder Belle Architects & Planners
Founded in 1968, Beyer Blinder Belle Architects & Planners is an award-winning architecture, planning, and interiors practice of 170 professionals in Washington, DC, New York City, and Boston. The firm's multi-faceted portfolio encompasses preservation, campus planning and urban design, and new construction projects that span a wide spectrum of building typologies and sectors, including cultural, civic, educational, residential, and commercial. 
Many of our projects involve the stewardship of historic buildings in sensitive urban sites—the work for which we have become best recognized. Planning and Urban Design is central to BBB's mission and forms a significant part of our multi-disciplinary practice. We have designed award-winning plans for campuses, cities, neighborhoods and historic districts, institutional and government facilities, waterfronts, and mixed-use developments. Notable projects include Amherst College, Campus Framework Plan; Princeton University Campus Plan; the Verdae Development Master Plan in Greenville, SC; and Essex Crossing in New York, NY. BBB approaches all projects with a deep understanding of their character-defining features, and brings creativity, place-making, and authenticity to the design of buildings and dynamic public spaces that meet the needs of current and future generations. Visit www.beyerblinderbelle.com for more.  www.beyerblinderbelle.com