RISD Interior Architecture Students Envision More Inclusive Futures for the Rhode Island State House
Uncategorized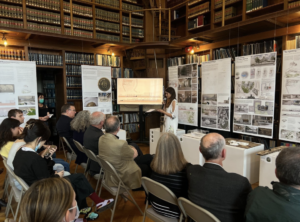 Providence, RI (June 23, 2022) – Students in RISD's Interior Architecture department are reimagining "the people's house" on Smith Hill as a place where everyone feels welcome and can clearly see how Rhode Island and its legislature have evolved in recent years. As part of this exploration, they have also considered the cultural and design impacts of the state's new name that has removed the words and Providence Plantations from all official representation.
Student proposals created as part of the My State House Competition were presented, followed by the State House Futures proposals. Both projects were collaborations between RISD and The Rhode Island State House Restoration Society.
The My State House competition called on community members, activists, architects, landscape architects, artists, futurists and engineers to reconsider the iconic building and its expansive grounds and suggest interventions that would make the State House more welcoming, accessible and dynamic.
The State House Futures project encourages the community to accept ownership of its difficult past and look to proposed changes with hope for a more just future. Students envision the State House as playing a role in reinforcing voting rights, civic education and political engagement and symbolically standing up against systemic racism, injustice and inequality.
A selection of images can be viewed here.
About Rhode Island School of Design
RISD's mission, through its college and museum, is to educate students and the public in the creation and appreciation of works of art and design, to discover and transmit knowledge and to make lasting contributions to a global society through critical thinking, scholarship and innovation. The college's strategic plan NEXT: RISD 2020–2027 sets an ambitious vision for educating students for the future and bringing creative practices to bear on the creation of just societies, a sustainable planet and new ways of making and knowing. RISD's immersive model of art and design education, which emphasizes critical making through studio-based learning and robust study in the liberal arts, prepares students to intervene in the critical challenges of our time. Working with exceptional faculty and in extraordinary specialized facilities, 2,500 students from 68 countries engage in 44 full-time bachelor's and master's degree programs. RISD's 31,000 alumni worldwide testify to the impact of this model of education, exemplifying the vital role artists and designers play in today's society. Founded in 1877, RISD (pronounced "RIZ-dee") and the RISD Museum help make Providence, RI among the most culturally active and creative cities in the region.